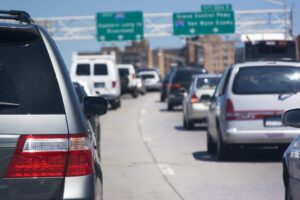 No matter why or where we drive, being involved in a car accident isn't on anyone's wish list.  When it comes to driving in Atlanta, there are certain safety precautions, and even common courtesies, that everyone should practice on the road. One substantial approach is to leave enough space between your car and the car in front of you. According to a recent study done by Insurify, Georgia was found to be the 2nd worst state, after Idaho, for tailgating, or following too closely.
As part of the study, over 1.6 million car insurance applications were reviewed.  These applications contained details regarding individuals' driving histories that included a citation for following too closely within the previous 7 years. The study then compared the number of violations for following too closely to the total number of drivers within each state.  Alarmingly, Georgia ranked 2nd out of 50 for the number of following too closely tickets issued (45 tickets per 10,000 motorists).  To add to the unfavorable data, Georgia lands as the 16th deadliest state with quite a high number of fatal car accidents.  In better news, more Georgians use seatbelts as compared to the rest of the country. According to the study, 97.1% of drivers in Georgia wear their seatbelt, which can be a real lifesaver if someone is hit by a driver who's following too closely.
How to Avoid an Accident Caused by Following Too Closely
As a driver, stick to the 3-Second Rule.
When the vehicle ahead of you passes a sign or particular point, begin counting "one-one thousand, two-one thousand, three-one thousand." If you pass the same point before you finish counting, then you're following too closely.
Add more time between you and the vehicle ahead of you if weather conditions are hazardous or visibility is reduced.
Distractions can be a major cause of following too closely and for rear-end collisions. It's important to stay completely focused on the road and on the vehicle in front of you. Distractions while driving, such as texting, emailing, eating or changing the radio, should be avoided.
What to Do After a Car Accident
For a free legal consultation, call 404-214-2001
By doing our part as drivers, our daily commutes and driving behavior can be changed for the better. At Kaine Law, we are dedicated to those individuals who have suffered bodily injury due to the negligence of other drivers. If you have questions regarding your car accident, please contact our office immediately at (888) KAINE-LAW or by using this form.
Kaine Law is a personal injury law firm representing injured accident victims in Georgia.  With offices in Atlanta, Conyers, Lawrenceville and Stockbridge, Kaine Law's personal injury attorneys specialize in representing injured motorcycle accident victims, injured car accident victims, injured truck accident victims, families hurt by the wrongful death of their loved one, and injured pedestrian accident victims.  Kaine Law represents their injured accident victim clients using a contingency fee agreement which provides that there are no legal fees unless we win.
Call or text 404-214-2001 or complete a Free Case Evaluation form