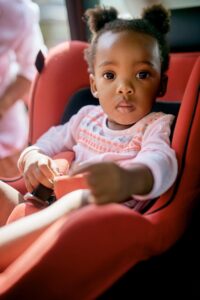 A new study from the American Academy of Pediatrics (AAP) has recently changed its recommendation on how long a child should remain rear-facing in their car seat. According to the AAP, a child should remain in a rear-facing car seat as long as possible. Previously, the standard in a rear-face seat was to keep them there until age 2.
Safety Recommendations for Child Car Seats
The recent change in the recommended guidelines coincides with the fact that motor vehicle crashes still being the leading cause of death for children ages 4 and younger. While vehicles have become safer in the past decade, with the help of side impact technology and manufacturing safety efforts, there is still room for improvement. Alongside this newly released suggestion, the AAP has also provided 5 safety recommendations:
All infants and toddlers should ride in a rear-facing car safety seat (CSS) as long as possible. This is suggested until that child reaches the height and weight limit of the CSS. Many convertible car seats limits exceed the age of 2 while the child sits rear-facing.
For children who have outgrown the rear-facing weight or height limit for their CSS, they should use a forward facing CSS with a harness for as long as possible.
Once a child exceeds the weight and height limit of a forward facing car seat, they should be seated in a belt-positioning booster seat until the lap and should seat belt fits properly. For many children, this is estimated to be at 4' 9" or between the ages of 8 – 12.
For the best protection, when a child is old enough and large enough to use the vehicle's seat belt alone (without a CSS), they should always use the lap and shoulder seat belt when riding in a vehicle.
All children who are under the age of 13 should remain in the rear seats of the vehicle for optimal protection. A child younger than 13 who is riding in the front passenger seat is at greater risk of injury and death.
Georgia Child Car Seat Law
While the American Academy of Pediatrics is a highly respected medical organization, each state has specific guidelines and laws regarding the use of car seats. In the state of Georgia, the following car seat laws are as follows:
Any child under the age of 8 must ride in a federally approved car seat or booster seat that is appropriate for their height and weight.
Children who are below the age of 8 must ride in the back seat. However, if the back seat is occupied by other passengers, that child may ride in the front seat with the proper booster or child safety seat.
Children 8 and older must wear a safety belt.
Any child over 4' 9" may use a seat belt in lieu of a booster seat.
Children who do not require car seats may ride in the front seat so long as they are 8 or older.
For a free legal consultation, call 404-214-2001
The AAP suggests that because of the immaturity of a child's neck and spine and the fact that children are generally head-heavy, children are more prone to injuries in a forward facing seat than a rear facing seat. As a result, safety measures, studies and guidelines regarding this very topic are released to educate and protect our loved ones.
Kaine Law is a personal injury law firm representing injured accident victims in Georgia.  With offices in Atlanta, Conyers, Lawrenceville and Stockbridge, Kaine Law's personal injury attorneys specialize in representing injured motorcycle accident victims, injured car accident victims, injured dog bite victims and injured pedestrian accident victims.  Kaine Law represents their injured accident victim clients using a contingency fee agreement which provides that there are no legal fees unless we win.
Call or text 404-214-2001 or complete a Free Case Evaluation form