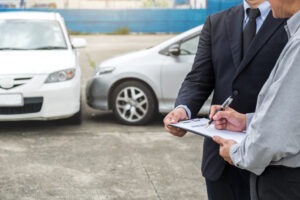 You can get car insurance with a suspended license. It is a crime not to have an up-to-date insurance policy that complies with state laws on any vehicle you drive or intend to drive.
Even if you cannot drive at the moment, you will want to ensure you maintain coverage on any vehicles you own or lease. It is much easier to keep coverage going than to let it lapse and then have to reinstate it along with your driver's license.
Getting Car Insurance With a Suspended License
If you own or lease a vehicle, you are required by law to maintain "continuous Georgia Liability Insurance coverage," according to the Georgia Department of Revenue (DOR). You can get car insurance with a suspended license by:
Contacting your insurance company, if you already have a policy that needs renewing

Doing an internet search for insurers serving your area or talking with friends about what insurance policies they have

Comparing policies to make sure you get the best deal

Talking to your attorney about the best ways to maintain or obtain coverage with a suspended license
Car Insurance Minimums
What kinds of car insurance do you need? The Office of Commissioner of Insurance and Fire Safety (OCI) states that Georgia car owners must purchase at least:
$25,000 for bodily injuries per person

$50,000 for bodily injuries per accident

$25,000 for property damage per accident
This would protect you if you ever get into a car accident. If you file a claim on time, your policy will help cover your medical bills and the cost of repairing your car. It would also pay any claims filed against you by another party if, for example, the accident was your fault.
In addition to these minimums, you could purchase insurance to cover non-accident events (e.g., hurricane damage) and damage caused by an uninsured driver. Talk to your lawyer or your insurance agent about which policies might be right for you.
Car Insurance Premiums and Your Suspended License
How much you end up paying for car insurance depends on many factors, most of which boil down to this: the more likely it is that you will be involved in an accident and force the insurer to pay out, the higher your premiums will be.
Having a suspended license, especially as the result of an accident or a traffic infraction, could convince the insurance company to raise your rates.
If you have any doubts or concerns about your insurance rates, your insurance agent or your car insurance attorney might be able to help.
For a free legal consultation, call 404-214-2001
Can I Drive With a Suspended License?
No. Once your license has been suspended, you can no longer drive with that license. This applies to licenses that have been suspended for any number of reasons, including for:
Driving while under the influence

Causing a car accident that injured someone else

Having a medical condition that makes it dangerous to drive

Driving with a suspended license
Under O.G.C.A. § 40-5-121, if you try to drive with a suspended license, you could face a fine and jail time. The more times you are caught driving with a suspended license, the worse the penalties become.
With that said, if your license has been suspended, you could apply for a limited permit. As the Georgia Department of Driver Services (DDS) explains, a limited permit would allow you to:
Drive to certain locations (such as work or school) at specified dates and times

Perform important errands or tasks for family members who rely on you

Attend court-mandated activities, such as hearings or driver safety classes
If the Car Accident Was Not Your Fault
When someone else causes your car accident, you could get compensation from both your own insurer and the at-fault party's insurer.
When you file a claim with your own insurer, you can only receive compensation for certain items, like medical bills and car repairs. In filing a lawsuit, you could ask for a settlement that covers a much wider range of losses, such as:
Other expenses related to the accident

Short- or long-term loss of wages

Pain and suffering

Disability

Disfigurement

Lost quality of life
You may be reasonably certain that the accident was not your fault, but how can you convince others of this fact? Car accidents are fast, confusing, and chaotic events. The other party may try to blame you for what happened, especially if you have prior infractions (like driving with a suspended license) on your record.
Before you suffer the consequences of being blamed for a traffic accident, you can talk to a car accident attorney in your area. They could:
Investigate the crash to find out what really happened

Seek to mitigate the effects of potential legal or financial challenges, such as license suspension or a demand for compensation

Pursue compensation from both your insurance company and the at-fault party's

Negotiate with the insurance companies to make sure you get all the money you need

Collect and submit evidence showing that you were not at fault and that the other driver should pay you damages

Take the at-fault party to court, if that is the best way to pursue compensation based on your circumstances
Car accidents can cause life-altering injuries and debilitating financial burdens. This is why purchasing car insurance is not just a good idea but a legal requirement: you do not want to be stuck paying for everything by yourself in the event of a collision.
That said, insurance laws and insurance policies can both be very confusing. You have the right to talk to a legal representative at any time to get help with any issues relating to your policy, your accident, your suspended license, or filing a claim or a lawsuit.
Click to contact our personal injury lawyers today
Have More Car Insurance Questions?
Kaine Law can help Georgia residents who want answers or representation concerning how you can get car insurance with a suspended license, how to get compensation from a liable driver with no insurance, and more. Call for a free case review and learn more about your rights and responsibilities as a driver today.
Call or text 404-214-2001 or complete a Free Case Evaluation form