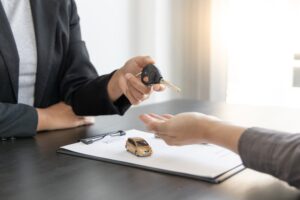 Steps in an Atlanta car accident lawsuit include filing and settling your claim or going to trial. There are several other steps that our firm will handle for you. 
Car accident lawsuits require a process and may take significant time. By hiring our firm, you may avoid the responsibility of a lawsuit.
The Sequence of an Atlanta Car Accident Lawsuit
A car accident lawyer will handle every step of your case, including:
Filing a Complaint About Your Car Accident
Our firm can start the legal process by filing a complaint. A complaint notifies the civil court in Atlanta that you're the victim of a tort, or harmful act. The complaint will contain critical details of your case – what happened, who is responsible, how you've been harmed, and other important facts.
There are generally deadlines for filing a complaint in civil court. Our team will work quickly to file your complaint on time.
Serving the Defendant in Your Car Accident Case
Once we've filed the complaint with the appropriate court, we'll notify the defendant. This is called "serving" the defendant. Once they've received notice of your complaint, the defendant will need to respond within a certain period. Like the complaint, the documents the defendant receives will detail the basis for your legal action.
Reviewing the Defendant's Response
A defendant may respond to your complaint in two primary ways:
Admitting fault, essentially confirming your complaint

Refuting one or more aspects of your complaint
The defendant's attorney may generally contest your complaint, even as a negotiating tactic. This may trigger the next phases of your case.
Completing Discovery
Discovery is generally the precursor to settlement negotiations and trial. At this time, your attorney and the defendant's attorney may exchange relevant information. That information may include:
Evidence

Facts 

Witness accounts 

The calculation of damages

Other relevant details
After discovery, your attorneys may have a clearer vision of the defendant's case.
Settling Your Claim or Going to Trial
Before going to trial, we generally try to settle. Obtaining a settlement depends on the defendant's willingness to compensate you fairly. 
Our team of attorneys will stand behind our calculation of damages. If the defendant won't cover your losses, then our team will proceed to trial.
For a free legal consultation, call 404-214-2001
Do You Need an Attorney for an Insurance Claim in Atlanta?
Even if you intend to resolve your case through insurance, several hazards stand in the way of a fair settlement. Insurance companies may:
Blame you for your car accident

Avoid paying some or all of your claim

Use complex language to confuse you

Misrepresent your words or actions

Use attorneys to intimidate you

Act in otherwise deceptive ways

Present an unfair settlement offer
For these reasons, you may want an attorney for an insurance claim. A lawsuit can be even more complicated. 
Why Should You Hire a Lawyer for a Car Accident Lawsuit in Atlanta?
The steps in an Atlanta car accident lawsuit can be too much for many victims. Between doctors' appointments, rest, and their usual responsibilities, you may lack the time to handle a legal case. An attorney from our firm will handle your case for you.
Hiring our firm for your car accident case may:
Reduce the overall stress that your accident causes

Result in a favorable settlement or judgment

Spare you valuable time and energy

Allow you to focus all your attention on recovery
A car accident lawyer from our team will have relevant experience. They may have won significant recoveries for clients like you. 
What Does a Car Accident Lawyer Do?
A car accident lawyer seeks a fair recovery for their client. "Fair recovery" varies from case to case and generally depends on the victim's damages. Duties a car accident lawyer handles include:
Determining liability for the car accident

Filing the claim or lawsuit

Dealing with insurance companies and attorneys

Consulting experts and doctors

Negotiating a settlement

Completing a trial
Your attorney will protect your rights, serving as a buffer between you and those who would violate your rights. We do all the heavy lifting while you focus on your recovery.
What Losses May Your Financial Recovery Include?
Recoverable losses in car accident cases may include:
Healthcare expenses (ambulance transport, doctors' appointments, hospitalization, and other medical costs)

Pain and suffering

Counseling and medications for pain and suffering

Emotional distress

Lost income 

Lost earning power

Lost productivity

Vehicle repairs
Wrongful death cases involve a unique set of losses. If you lost a loved one to a car accident, you may be compensated for funeral and burial costs, loss of financial support, loss of companionship, and more. We will review your case and identify all recoverable losses.
Our lawyers fight for the compensation our clients deserve. We will not back down and accept a settlement or court award that does not fully cover all your losses.
Call Kaine Law Today for a Free Consultation About Your Fulton County Car Accident Case
We offer help to victims of car accidents in Atlanta. Our team will handle all case-related costs, and we only get a fee if we win for you. Don't wait to call, as car accident cases generally have a statute of limitations. If you miss the deadline to file a lawsuit, you may be forever barred from pursuing compensation you are entitled to. 
You don't want to risk losing out on compensation that can help you move forward more comfortably after a car accident. Call Kaine Law today at (404) 214-2001 for a FREE consultation. Don't jeopardize your health by handling your case alone. Let us help you at no upfront cost.
Call or text 404-214-2001 or complete a Free Case Evaluation form