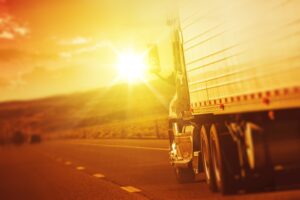 In the aftermath of a commercial truck accident, you should seek medical care, contact your insurer, and consider getting a case review to learn your legal options.
The days and weeks following an accident can be challenging, especially when you are dealing with serious injuries. Taking the following steps could help you protect both your health and your rights related to a future personal injury case.
Seek Medical Care
Any pain, stiffness, or other injury resulting from a truck wreck should be evaluated by a doctor immediately. Even if the injury seems minor, the reality is that early treatment could prevent it from worsening. According to the Mayo Clinic, conditions like whiplash are more likely to become pronounced in the days that follow an accident as opposed to when the crash occurs.
Seeing the doctor right away also creates a contemporaneous paper trail documenting your effort to treat the injury as well as the specific care you received. This documentation could be powerful evidence in your case for compensation.
For a free legal consultation, call 404-214-2001
Follow the Doctor's Advice
It is not enough to go to the doctor for an evaluation. Following the guidance of your physician is also a vital step after you've been in a truck accident. In many cases, the care prescribed by a physician after a truck accident could greatly reduce the severity of an injury. If you fail to follow the prescribed treatment, you could experience worsening conditions that were entirely avoidable.
This is problematic not only for your health but for your personal injury claim as well. If you fail to follow through on your treatment needs, the defendant could argue that you made your injuries worse—and therefore, they should not be held liable. Following the doctor's advice can help you document your accident-related losses.
Contact Your Insurance Company
If you have not done so already, you should inform your insurance company of the accident. Most insurance policies include language requiring insured drivers to notify the insurance company any time they are in an accident.
The failure to do so could have consequences. Your insurance company has the right to conduct its own investigation of the accident. By failing to notify them of the crash, they could miss out on their chance to do so. This could result in a denied claim or even the cancellation of your policy in some cases.
While you have to provide notice to your insurer, we recommend keeping your communication with the insurer brief. An attorney could speak with the insurance company on your behalf and help you protect your claim.
Click to contact our personal injury lawyers today
Don't Talk About Your Case
While you are obligated to notify your insurance company that you were involved in an accident, you do not have to discuss your case with anyone else. You could protect your personal injury claim by taking advantage of this right and avoiding any discussion of your accident or your injuries.
Most importantly, avoid discussing your case with a representative of the trucking company or their insurance provider. In some cases, an insurer may:
Get you to admit you were at fault during the accident
Find ways to claim that your injuries are not severe
Take your words out of context and use them to deny your injury claim
One of the major benefits of hiring legal counsel is allowing them to serve as your advocate. We can speak with insurance adjusters or attorneys on your behalf. This prevents them from taking your statements out of context and also frees you from the stress and hassle of dealing with an insurance company.
Complete a Free Case Evaluation form now
Get a Free Case Review with Our Team After a Truck Accident
One of the most important things you should do in the days following a truck accident is to get a case review from a lawyer's office. At our firm, we offer free case reviews. If your injuries have left you with medical bills and caused you to miss work, we could help you recover compensation for your losses.
During your free case review, you can find out more about:
How much your case may be worth
What damages you may qualify to seek (such as a recovery for your medical bills, lost income, pain and suffering, and more)
How we can manage every part of your claim or lawsuit for you
Physical pain, mounting medical debt, and the inability to financially support your family can overwhelm anyone. We can help you get your life back on track.
There Is a Limited Time to File Suit in Georgia
While you consider your next steps after a truck accident, keep in mind that you have a limited time to file a lawsuit after an accident. According to OCGA §9-3-33, you have two years to begin the process.
We recommend getting started as soon as you can to protect your legal options. We can help you keep your case on track to meet any important deadlines.
Call Kaine Law Today for a Free Case Review
The team at Kaine Law is available to take your call any time, day or night. We have decades of experience and we are ready to use our knowledge in pursuit of results for you.
If you have questions about how our firm could best serve you, we look forward to giving you those answers. Call for your free consultation today.
Call or text 404-214-2001 or complete a Free Case Evaluation form