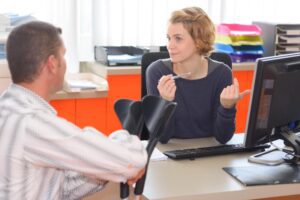 It is possible to change personal injury lawyers and hire new representation. Even if you are in the middle of a case, you can fire your lawyer if they are not doing their job.
However, consider your options before firing your lawyer. Depending on the issue that you're having with your attorney, you may want to first get a second opinion from another lawyer's team or simply notify your lawyer about your concerns.
When You're Having Problems with Your Lawyer?
There are many reasons why you may be thinking about ending the relationship with your current legal team, including:
Bad Communication
If you have questions and can't get a response from your lawyer, this can be a big issue. You may feel in the dark about what's going on with your case and doubt whether your case will be resolved.
Poor Performance for Your Case
From disorganization to a lack of commitment to seeking the best results, your lawyer may seem to be incompetent in handling your case.
Unacceptable Fees
You may have arranged a contingency fee agreement that will pay your lawyer a percentage of your final settlement, but you may have also had to pay some minor fees as your case is prepared. If you see unreasonable bills for minor paperwork filing costs, for instance, you might want to seek another lawyer.
Misconduct
Unfortunately, you may be dealing with someone whose practices seem unethical or unacceptable to you.
You're Unhappy with Your Lawyer's Recommendations
A lawyer may not be listening to your concerns or offering you appropriate advice. Instead, they may be pushing you to take actions you do not wish to take, such as accepting a lower settlement offer.
For a free legal consultation, call 404-214-2001
Consider the Costs of Firing a Lawyer
Firing a lawyer can be expensive, so we recommend that you only take this step when you're sure it's the right one. You might not be able to get your retainer fee back if you paid such a fee when you initially hired your lawyer. If you're already deep into the process of your case, it could also be challenging for your new lawyer to catch up.
Still, you do not have to hang on to your lawyer if they are not doing their job. You are paying them for advice, attention to your case, and results.
The Other Options You Have Before Firing a Lawyer
While all of the above issues are significant, you may want to consider how you can address them before firing your lawyer. For instance:
If you're having trouble with communication or your lawyer seems like they're not working on your case, you can first send them a letter to clearly notify them of your concerns.
If you don't agree with your lawyer's advice, you can try getting a second opinion from another lawyer. You might even be able to get a free consultation from some firms (such as ours).
If your lawyer doesn't improve their communication or commitment to your case after you notify them of your concerns, this may be the time to find a new lawyer. After getting a second opinion and learning that your lawyer is dramatically undervaluing your case, this could also be a sign to move on.
When a lawyer is doing something unethical or seems highly incompetent, you may want to report your lawyer to the state bar association—then hire someone else.
Click to contact our personal injury lawyers today
What Steps You Could Take to End the Relationship with Your Lawyer?
Once you've decided that firing your lawyer is the right choice, take the following steps:
Follow any procedures for firing the lawyer as described in your legal services contract.
Send a letter to your lawyer's office stating that you're ending the relationship. Request that your old lawyer forwards your case file to your new lawyer. Include your new team's contact information.
You may have to notify the court that you've changed counsel if you've begun the process of a lawsuit. You can ask your new lawyer about any paperwork that may need to be submitted.
There may be other steps that you'll want to take when you fire your lawyer. Your new legal team can give you more recommendations on how to execute this switch as smoothly as possible.
Complete a Free Case Evaluation form now
We Can Handle Every Step of Your Claim or Lawsuit
At our firm, you can expect us to:
Gather compelling evidence for your case file
Negotiate with insurance companies and handle all third party communication
Pursue the best possible settlement
Help you understand your legal options
Keep you in the loop as your case develops
Help you comply with the state deadline to file a lawsuit (OCGA §9-3-33)
Take your case to court, if necessary
We are committed to seeking the best results for your case. If you need advice on whether you should switch personal injury lawyers, you can call us for free to get a second opinion.
Call Us Today for a Free Case Review
With multiple decades of experience, we are passionate about helping injured people like you. We are available to take your call day or night, 24/7.
Call Kaine Law today to get help and answers.
Call or text 404-214-2001 or complete a Free Case Evaluation form