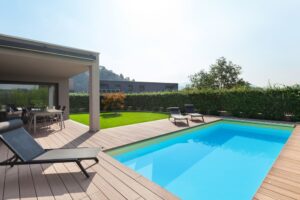 To file a lawsuit after an accident in a pool, you need evidence that identifies the at-fault party and proves their negligence. You also need evidence that proves the costs you incur because of the accident, and its impact on your life, such as preventing you from working. Finally, you need proof of the extent of your injuries and the toll it has taken on your life.
If you were injured in a public or private swimming pool, you could be entitled to file a premises liability insurance claim or lawsuit. When you are represented by a local lawyer, they will explain what evidence you need for a pool accident lawsuit. They will also explain the steps involved in filing your lawsuit and how your case can be settled outside of court with a financial settlement.
The Importance of a Comprehensive Evidence File After a Pool Accident
The majority of cases like yours will not go to court. They are far more likely to be resolved with a settlement based on the weight and substance of the accumulated evidence. If you hire a personal injury lawyer, they will manage all communication related to obtaining evidence.
While you focus on getting better, they will track down evidence, request reports and records, and obtain evidence you might find hard to access or emotionally triggering. The evidence will also identify the at-fault party, prove the pool was not safeguarded or properly maintained, or prove it was an attractive nuisance.
Evidence That Proves Negligence Caused Your Pool Accident
You can pursue the owner of the pool or the property it sits on by proving their action, or failure to take appropriate action, led to your pool accident. The evidence will prove the four legally required elements of negligence: 
Duty of care: The pool or property owner's responsibility to maintain a safe pool and surrounding area

Breach of duty: Their failure to protect you and others while the pool was in use

Causation: Proof that the pool accident would not have happened but for the at-fault party's actions

Damages: Proof of the accident's financial consequences
This portion of your evidence file will include witness statements, accident or incident reports (if made), first responder reports, photos of the pool and its deck, diving equipment, and other surroundings.
Evidence That Proves Your Post-Accident Expenses and Losses
A pool accident can leave you with immediate and ongoing medical expenses. To substantiate their costs, your lawyer will collect your medical records and bills from every healthcare facility and professional where you were treated. 
In addition, this portion of your evidence file will include your employment records, proof of income, and rehab and therapy records. If your personal property was damaged (for example, if your smartphone fell into the pool), your evidence will include receipts and estimates for repairing or replacing your damaged or destroyed property.
Evidence That Proves the Extent of Your Injuries and Their Impact on Your Life
This portion of your case file will contain your medical records, written prognosis, and your own statement describing the toll your injuries have taken on your life and lifestyle. Evidence can also include records for any post-traumatic stress or other treatment you received based on the psychological toll of the accident.
For a free legal consultation, call 404-214-2001
Financial Compensation Your Lawyer Will Demand for Your Pool Accident
Your lawyer will assess your recoverable damages. They will also document them, which can help you avoid accidentally omitting valid expenses and losses. Their goal is to avoid having your lawsuit undervalued or underpaid. The economic damages your lawyer will demand include:
Current and future medical expenses

Treatment-related travel costs

Rehabilitation and therapy bills

Assistive medical devices

Current and future loss of income

Loss of future earning capacity

Property damage or total loss
Your non-economic recoverable damages will include lasting impairments, disfiguring injuries, physical pain and suffering. They also include mental anguish, emotional distress, and loss of enjoyment of life.
Wrongful Death Compensation After a Swimming Pool Accident Fatality
If your family lost a loved one in a pool accident, you could recover a range of wrongful death damages. While nothing can atone for your loss, you can recover compensation for the financial hardship a sudden loss can create for your family. Wrongful damages can include:
Funeral and burial expenses

Loss of the decedent's income

Loss of the decedent's domestic aid

Your loss of consortium and society

Your loss of companionship and support
Your lawyer will also explain which family members can recover a financial award and who will file the lawsuit on behalf of your family. In general, the decedent's parents, spouse, and children can recover appropriate damages.
How Filing Deadlines Affect Your Right to File Your Lawsuit
Civil lawsuits have lots of moving parts, each of which plays a key role in your potential lawsuit. Like all civil lawsuits, yours also has a filing deadline that must be adhered to. On your own, understanding and complying with the statute of limitations can be complex because:
It can change based on the outcome of the accident

It can toll (or pause) based on the age of the injured party

It can change based on certain actions by the at-fault party
The best way to comply with the statute of limitations is to let a lawyer handle it. The sooner you put a lawyer to work on your case, the more time they have to comply. It also means they have time to locate and interview witnesses while their memories are fresh. 
Your Free Case Evaluation Is Available 24/7
If you or someone you love was injured in a recent swimming pool accident, you can recover damages from the property owner. We will explain the evidence you need for your pool accident lawsuit and the steps we take to build the strongest possible case for you. 
You do not have to go up against a large insurance company on your own. Get started right away by contacting one of our case evaluation team members at Kaine Law today.
Call or text 404-214-2001 or complete a Free Case Evaluation form