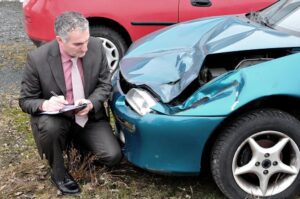 If you wreck a rental car in Georgia, you generally follow the same steps as you would if you had an accident in your normal vehicle. That is, you would want to contact the police, report the accident, seek care for any injuries, and consult a car accident lawyer. Learn more below about the steps to follow after your car rental accident. 
What Should You Expect if You Wreck Your Rental Car?
If you wreck a rental car in Georgia, you should stop your vehicle or pull over to the side of the road. Leaving after a collision can result in a hit-and-run charge. After you stop, wait for the police to arrive, assess the accident, and write a report. 
You should share contact information with any other drivers involved and witnesses who saw the accident. Then, contact your insurance company and provide basic details about the accident (e.g., who was involved, the location and date of the crash, etc.). The other driver's insurance company may also reach out to you.
Finally, make sure that you notify the rental car company about the accident. They may want you to take the vehicle to a specific repair shop to have the damage assessed and repaired. 
For a free legal consultation, call 404-214-2001
Will Your Car Insurance Cover Damage to a Rental Car?
In many cases, your personal car insurance covers damage to rental cars. However, we do recommend checking your policy before you get behind the wheel of a rental vehicle. Make sure your policy covers rentals and check the limits for your insurance. 
Some people carry a minimum amount of insurance coverage in the state. If you rent an expensive vehicle, your insurance policy may not provide enough funding to address repair costs.
Can You Count on Rental Car Insurance After an Accident in Georgia?
Most rental car companies offer you additional forms of insurance when you pick up a vehicle. Examples of this extra insurance include: 
Liability coverage

Collision damage waivers 

Personal effects coverage 

Personal accident insurance 
In many cases, these forms of insurance would overlap with what you carry through your personal insurance. You do not have a legal obligation to purchase extra insurance from the car rental company. 
However, you can take out additional insurance if you feel your standard policy does not provide you with sufficient protection. You may also want to review who the rental insurance covers; in many cases, it only covers the individual who rents the vehicle or their spouse. Therefore, if someone else was driving your rental car at the time of the accident, you may not receive compensation from the company after a collision. 
Click to contact our personal injury lawyers today
What Happens if You Have Rental Insurance Through a Credit Card?
Some credit cards provide rental car insurance if you use them to rent a vehicle. Generally, this form of coverage does not provide liability insurance, and not all credit card companies offer the protection.
However, if you believe your credit card provides this form of coverage, you may want to contact them after an accident to learn more. 
Complete a Free Case Evaluation form now
What to Expect if Another Driver Caused a Rental Car Accident
Your insurance may not need to cover the losses if someone else caused your accident. Collisions often occur due to other drivers breaking the rules of the road by:
Speeding

Swerving across lanes

Tailgating

Running red lights or stop signs 
If someone else caused your collision, a car accident lawyer in Georgia can step in to help. Lawyers assess the facts of your claim, gather evidence to show that the other driver was at fault, and track all of your losses.
A lawyer can help you settle your rental car accident claim or even support you while your case goes to court after a collision.
How Long do You Have to Move Forward After a Rental Car Accident?
Generally, you have about two years to file a lawsuit after a rental car accident in Georgia under O.C.G.A. § 9-3-33. In accidents involving government vehicles or employees, you may have less time to seek compensation.
Make sure you start your case soon. If you try to file past the deadline, the court may not hear your case.
What Kind of Compensation Can You Receive After a Rental Car Wreck?
You may receive damages to cover the damage to your rental vehicle, your medical expenses, lost wages, and pain and suffering after an accident. 
Our team helps clients secure damages to cover all their losses, allowing them to move forward after a wreck. 
Speak to Kaine Law If You Were in a Rental Car Wreck
What happens if you wreck a rental car in Georgia? You may secure compensation for your losses, especially if another driver caused the collision. Learn more with a car accident lawyer from Kaine Law. Call us today for a free consultation.
Call or text 404-214-2001 or complete a Free Case Evaluation form