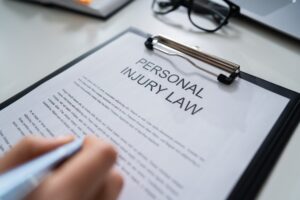 You should consider hiring a personal injury lawyer when you have medical expenses, lost income, and other damages resulting from another party's negligent behavior. While you can attempt to handle your insurance claim or lawsuit alone, securing compensation can be difficult and time-consuming, and you could end up walking away with less than you deserve. 
What Does a Personal Injury Lawyer Do?
Personal injury law protects individuals who have suffered injuries or property damages due to another party's reckless, wrongful, or negligent actions. Cases that fall under the umbrella of personal injury include:
Car, truck, and bus accidents

Motorcycle accidents

Wrongful death

Dog bites

Slip and falls

Premises liability accidents

Golf cart and ATV accidents

Boating accidents 

Train accidents

Injuries involving defective and dangerous products, drugs, and devices

Workers' compensation
If you have injuries and financial losses from an accident you did not cause, you have the legal right to pursue compensation with a claim or lawsuit against the liable party. A personal injury lawyer with our firm can:
Identify and Recover Your Damages
We can use your receipts, bills, and other proof of expenses to identify and calculate your damages. We can also work with doctors, economists, and vocational experts to understand your expected losses and how your injury may affect your long-term finances. Doing this ensures you obtain a settlement or verdict that fully compensates you so that you are not left without needed resources for your future medical care or living expenses. 
In general, compensation may include:
Emergency transportation and treatment

Hospital stays and doctors' visits

Medical procedures

Prescription drugs, mobility aids, and medical devices

Physical therapy

Life care costs

Lost wages, earnings, and benefits

Lost earning capacity

Vehicle and personal property damages

Physical pain and suffering

Mental and emotional distress

Inconvenience and lost quality of life

Loss of loved one's care, companionship, and counsel
Prove Liability
A successful personal injury case rests on proving the four elements of negligence:
We can collect evidence showing that another party had a legal obligation to keep you safe and failed to do so. We will then draw a link between their behavior, your physical and emotional injuries, and your related expenses. 
Depending on the type of accident you suffered, evidence may include:
Police reports

Medical records

Surveillance, cell phone, or dashcam video

Workplace records or incident reports

Eyewitness accounts

Expert testimony

Photographs of your injuries

Physical data

Scientific research
Handle Case Details
We can prepare and file case paperwork, track and manage deadlines, and handle phone calls, emails, and meetings. We will also aggressively represent you during insurance or pretrial negotiations and protect you from bad-faith tactics. If necessary, we will represent you at trial. 
Act Within the Statute of Limitations
According to O.C.G.A § 9-3-33, you have up to two years from your injury or your loved one's passing to file a personal injury or wrongful death lawsuit in Georgia. We can help you work through your insurance claim or take legal action before time runs out. 
For a free legal consultation, call 404-214-2001
How To Choose a Personal Injury Attorney
When selecting a lawyer, the Federal Trade Commission (FTC) recommends you:
Hire an attorney familiar with your issue.

Lawyers often focus on a specific area of the law, such as contracts or criminal defense. When seeking compensation for an injury, you want an attorney with experience with your type of case. Our firm is dedicated to serving personal injury clients. We have secured multi-million dollar

case results

for victims of motor vehicle collisions, workplace accidents, and other incidents resulting from negligence.

Understand the lawyer's payment and fees.

Some attorneys charge a flat rate, others charge by the hour, and some firms require a retainer. We work on contingency, meaning our clients owe nothing upfront or out of pocket. Instead, our payment comes from your settlement or verdict. We do not collect a fee if we do not obtain compensation for you. 

Consult with the attorney or law firm.

You want to make sure you feel comfortable with the lawyer you choose because open, honest communication is necessary to build a solid case. You also likely have questions about claims, lawsuits, and the process of seeking financial recovery. Our firm offers free consultations for prospective clients. We have staff available 24/7 who can tell you more about our services and your legal options. 
Reach Out to Kaine Law Today
An attorney with our firm can put decades of legal experience behind identifying and pursuing every cent owed to you. We can also do the work necessary to build your case and negotiate your claim so you can focus on healing from your injury or helping your hurt loved one. 
Contact Kaine Law to learn more about when you should hire a personal injury lawyer and how our firm can help with your case. Take advantage of our free consultations and connect with a Georgia personal injury attorney near you today.
Call or text 404-214-2001 or complete a Free Case Evaluation form