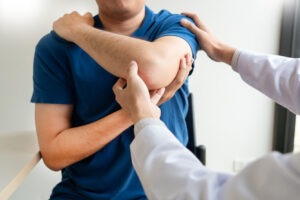 Everybody has a legal responsibility to act reasonably and avoid behaviors that could jeopardize another person's health and safety. If someone causes an accident through negligence, you can hold them accountable by suing them for damages—and Kaine Law can help.
Our Loganville personal injury lawyer can assist you by determining both the worth of your case and the best way of pursuing the compensation you need for medical bills, lost income, and physical and emotional suffering.
What Personal Injury Compensation Can You Get?
The settlement or jury award you receive depends on:
What kinds of injuries you sustained

Whether you can heal from those injuries

What evidence is available to prove you deserve compensation
Kaine Law can assign a Loganville personal injury lawyer to carefully investigate your case and determine its worth. For example, we can tell you which of the following common types of damages you might be entitled to recover:
Pain and suffering, both physical and emotional distress

Loss of wages, meaning any money or benefits you have already lost due to your injury

Loss of quality of life, if you can no longer do all of the things you used to do or if it takes more effort for you to do those things

Medical expenses, for any treatments you have already received or will likely receive in the future

Disability, which refers to temporary, permanent, partial, total, intellectual, and/or physical disabilities

Property damage, especially if you were involved in a traffic accident and your vehicle sustained damage

Disfigurement or scar tissue, for injuries that permanently affect your appearance

Loss of employment, for any jobs or promotions your injury prevents you from pursuing
Generally, you can only collect compensation if you start your case within two years of when you suffered the injury, per O.C.G.A § 9-3-33. In some cases, this deadline can be even shorter: if you plan on suing the municipal government, O.C.G.A. § 36-33-5 states you have just six months to begin
At Kaine Law, we recommend that you get in touch with us as soon as you are medically stable. This gives us the maximum amount of time to consider your case and devise and act on a strategy.
For a free legal consultation with a personal injury lawyer serving Loganville, call 404-214-2001
Why Hire Kaine Law After a Personal Injury?
With so many law firms serving Georgia, why should you allow Kaine Law to protect your rights? We believe that our firm offers many unique benefits to clients, including the fact that we:
Assess your case for free

: You can call us any time, day or night. Someone is always available to respond and to assess your case's legal viability at no charge.

Focus on clients

: At Kaine Law, clients always come first. We will listen attentively to what you have to say, and then we do all of the work on your behalf. We can also keep you updated throughout the case.

Specialize in personal injury

: Our team has two decades of collective experience with cases just like yours.

Get results

: No case is typical, but

Attorney Evan Kaine

is a member of the Multi-Million Dollar Advocates Forum, meaning that we have a track record of getting our clients the money they need and deserve.

No-fee guarantee

: You will never pay attorney's fees up front. Our team only collects our payment if we settle your case.
You can depend on Kaine Law to handle your entire case. That includes filing paperwork, collecting evidence against the liable party, negotiating for a fair settlement, and even taking the liable party to court if necessary.
While we work on your case, you would be free to receive medical care and recuperate as best you can from your accident.
Loganville Personal Injury Lawyer Near Me 404-214-2001
How Do Personal Injuries Happen?
Personal injuries can happen anytime and anywhere. All it takes is for one person or organization to be careless, and your life will never be the same.
Below is a list of the kinds of cases Kaine Law handles. If you are unsure of whether we can take your case, please feel free to call us and ask. We are happy to answer your questions about the following personal injury accidents and many others:
Automobile accidents

:

Car accidents

are, unfortunately, a very common cause of personal injuries. Reckless drivers put others at risk by speeding, following other vehicles too closely, or not paying attention to their surroundings.

Motorcycle accidents

: Motorcyclists often suffer more serious injuries than car occupants in a collision, even when they wear helmets and other protective gear.

Dog bites

: Responsible dog owners must keep their pets under close control through proper training and restraints—or be held liable when the dog attacks someone for no reason.

Premises liability

: If you fell, tripped, or were struck on someone else's property, you could have a premises liability case on your hands.

Accidents involving other vehicles

: Golf carts, ATVs, trains, and boats can all do serious damage if the people operating or manufacturing those vehicles make a mistake.

Product liability

: Did your injury occur due to a defective product? You could sue the manufacturer for negligence.

Workplace accidents

: If you sustained an injury while doing your job, you could sue for damages and/or seek workers' compensation benefits.
No matter who was negligent in your case, we want to work with you to hold them to account. The quicker you get in touch with Kaine Law, the more time we have to:
Investigate and file your case within the statute of limitations

Find evidence before it disappears or loses value

Protect you from the insurance company's tactics

Devise the most effective possible strategy for fighting your case
After a personal injury, you deserve a caring, compassionate legal team who will do everything possible to secure your family the settlement you deserve. Kaine Law wants to be that team.
Click to contact our Personal Injury lawyers today
Our Lawyers Serve Loganville and Beyond
Contact Kaine Law today so we can evaluate your case at no cost or risk to you. Our Loganville personal injury lawyer charges no upfront attorney's fees, making it easier for you to afford the legal representation you deserve after an accident.
Call or text 404-214-2001 or complete a Free Case Evaluation form