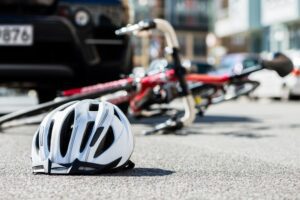 When a careless or reckless driver causes a bicycle accident, Georgia law requires them to compensate the victim. This generally occurs through an insurance claim and settlement, although the victim also has a right to sue the driver to secure compensation. Learn how much an average bicycle accident settlement is.
At Kaine Law, a McDonough personal injury attorney may be able to help you pursue a financial recovery based on the expenses, losses, and other damages you experienced because of your bicycle crash and injuries.
Kaine Law Represents Henry County Bicycle Accident Victims
If you were hurt when a driver hit you on your bike, you may be able to recover a payout that covers your medical bills, missed wages, and more. Kaine Law regularly handles traffic accident cases in and around Atlanta and can help if you suffered injuries in McDonough, Hampton, Stockbridge, Locust Grove, or other areas.
Attorney Evan Kaine has multiple decades of experience helping accident victims secure a financial recovery based on their accident-related costs, and our reviews and ratings show that our clients report a high level of satisfaction with our representation.
When we handle a bicycle accident case, we:
Manage the communication with the insurer and at-fault party
Obtain and analyze evidence to build strong support for your claim
Keep you up to date about your case
Put an estimated value range on your case
Pursue a fair settlement through negotiations
Sue the at-fault driver if we cannot settle
Represent you at trial if necessary
Fight for your best interests
Answer your questions and address concerns
To learn more about our services, let us assess your legal options for free today. If we work together, we will not ask you for any money up front. Our lawyers work based on contingency fees. We only get paid after we secure compensation in your case. If we do not settle or win in court, you will not pay us any attorney's fees.
For a free legal consultation with a bicycle accident lawyer serving McDonough, call 404-214-2001
Damages Recoverable Depend on Your Specific Expenses and Losses
By pursuing damages based on your McDonough bicycle accident, you may be able to recover enough money to pay your bills, cover your lost wages, and more. The compensation we seek for our clients comes from the value of the damages they experienced. Examples include:
Medical care, follow-up care, and related expenses
Future treatment and care costs
Lost wages and benefits
Diminished earning capacity
Disability, scarring, and disfigurement
Property damages
Pain and suffering
Reduced quality of life
How Much is My Case Worth?
We cannot know a fair settlement value in your case until we gather and analyze evidence of your damages. This will include everything from your medical records and bills to expert testimony about your prognosis and future care needs.
Once we finish our investigation into your McDonough injury accident, we will determine what an appropriate payout from the insurance company will look like. This will consider many factors, including:
The circumstances that led to your accident
Your diagnosis and necessary treatment
If you suffered a disability, long-term injury, or lasting injuries
If the crash impacted your quality of life
Other factors related to your accident, injuries, and losses
Is There a Cap on Damages?
There are no limits on how much you can recover under Georgia personal injury law. This includes both economic and non-economic damages. The available insurance coverage or assets held by the at-fault driver could limit your recovery, but the state laws will not. We may be able to seek compensation for all your documented losses and expenses.
McDonough Bicycle Accident Lawyer Near Me 404-214-2001
Proving the Motorist is Liable for My Henry County Bicycle Crash Injuries
If you were hurt because of a driver's bad behavior or mistake behind the wheel, you should not have to pay for your medical care and other expenses on your own. They should be responsible for these costs.
To hold a driver liable after a bicycle collision, you will need to show they acted negligently. There are four elements of negligence you will need to prove:
The driver had a responsibility not to endanger you (duty of care).
They did not uphold that responsibility (breach of duty).
Their actions caused your accident (causation).
You suffered harm as a result (damages).
For example, a motorist might whip out of a street parking spot without first looking for traffic in the bike lane. Under traffic laws, they must ensure no one is coming before moving from their parking spot. If they do not do so, they could hit you. If their actions cause your accident and injuries, you have a personal injury case against them.
Shared Fault in a Bicycle Accident
Our team may be able to build a strong case to show the motorist is 100 percent liable for your accident and injuries. In some cases, though, they may allege that you contributed to the crash. If this happens to you, it could affect your ability to recover damages.
Under O.C.G.A. § 51-12-33, you can still recover compensation as long as:
You are less than 50 percent liable for the accident; and
Your recovery is reduced based on the percentage you are responsible.
Let Kaine Law review your case today to learn more. We may be able to mitigate the harm that allegations of contributory negligence do to your case. You likely only have up to two years to sue the driver under O.C.G.A. § 9-3-33. Under some circumstances, you may have even less time to begin this process.
Click to contact our Bicycle Accidents lawyers today
Speak to a Kaine Law Team Member Serving Your Area Today
Kaine Law provides free case reviews for bicycle accident victims in McDonough. We will discuss your case with you and address any questions you have about the process, the strength of your claim, or our services. We may be able to go to work representing you immediately.
Call (404) 214-2001 now to discuss your options for seeking a financial recovery with our team. You do not have to fight this on your own.
Call or text 404-214-2001 or complete a Free Case Evaluation form