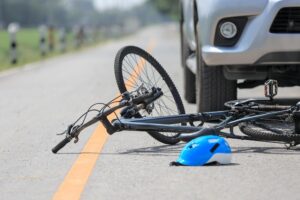 The lack of protection for bicycle riders can expose them to serious dangers on the road. When cars and trucks share the road with bikes, accidents can lead to severe injuries for the riders.
If you were struck by a motor vehicle while riding your bike, you may be entitled to collect compensation for your losses, such as medical expenses, lost income, and pain and suffering. A Kaine Law bicycle accident lawyer serving Conyers may be able to help you recover compensation. We work on contingency, which means you pay nothing unless our injury lawyers recover compensation.
Recovering Damages After a Bicycle Accident
Your damages will depend on the severity of your injuries and how they impact your overall life. In general, more severe injuries result in greater damages. Here are some types of damages you may be able to recover:
Medical Expenses
You may be able to recover damages for:
Emergency medical treatment

Ambulance bills
Diagnostic imaging
Surgeries
Follow-up medical care
Physical or occupational therapy
Lost Wages
Past lost wages for time away from work during your recovery
Future lost wages if you cannot return to your previous profession
Pain and Suffering
There are no direct expenses related to pain and suffering, but you can still seek compensation for the way the accident negatively impacted your life. Here are some reasons why you may be entitled to damages for pain and suffering:
The accident left you permanently disabled or disfigured
Your injuries require a long recovery
Your injuries require multiple surgeries
You suffer from chronic pain
You developed a mental health condition because of the accident
You can no longer participate in preferred activities because of your injuries
A lawyer from our team will use evidence, such as medical records, income statements, and interviews with you, your family, and your friends to estimate a settlement value.
Benefits of Working with a Bicycle Accident Lawyer
You can seek damages on your own, but you may be intimidated by the insurance company and its legal team. You may feel more comfortable working with one of our bicycle accident lawyers. Our lawyers serving Conyers can guide you through the legal process, handle the insurance aspects of your case, and advocate for your best interests at all times.
Here are some ways Kaine Law can help you:
Investigate Your Bicycle Accident
One of our lawyers will investigate your bicycle accident for evidence of negligence by the motor vehicle driver who hit you. We will collect evidence such as police reports, traffic camera footage, pictures of the accident, cell phone records, interviews with eyewitnesses, and more.
Estimate How Much Your Accident is Worth
A good estimate of your damages is critical to seeking a fair settlement. One of our lawyers will make an evidence-based estimate of the value of your damages. Learn how much an average bicycle accident settlement is.
Communicate with the Insurance Company
We will handle written and verbal communication with the insurance company. We will file a claim on your behalf and submit supporting documents, such as medical bills and records, past wage statements, and more.
Negotiate a Settlement
We will use his estimate of your damages to evaluate any settlement offers and negotiate a settlement that fairly compensates you.
File a Lawsuit
Sometimes, negotiations fail to produce satisfactory results. When that happens, we will file a lawsuit and represent you in court.
Georgia Deadlines in a Bicycle Accident Case
If you were hit by a motor vehicle while riding a bike, you only have a limited amount of time to sue the driver who hit you. O.C.G.A § 9-3-33 sets the statute of limitations for personal injury at two years, which means you have two years from the date of the accident to file a lawsuit. If you wait too long, you forfeit your legal right to sue.
Negligence and Liability in a Bicycle Accident Case
Anyone who rides a bike or drives a car must obey traffic laws. Drivers who do not may be guilty of negligence and can be held legally liable if they cause an accident.
While people use the word negligence casually, it has a specific legal meaning that includes the following four elements:
Duty of care: All drivers should provide a duty of care to other drivers and pedestrians. This duty of care means that drivers must follow traffic laws and avoid placing others at risk of harm.
Breach of duty: When drivers violate the duty of care, they put other drivers and pedestrians at risk.
Causation: In some cases, drivers who breach the duty of care cause an accident.
Damages: Drivers who directly cause an accident must financially compensate the other party or parties for their losses.
Common Causes of Accidents Between Bicycles and Motor Vehicles
There are many types of negligence that cause accidents. According to the Georgia Governor's Office of Highway Safety, these are the most common causes of accidents between bicycles and motor vehicles:
Motor vehicle driver failing to yield at a stop or yield sign
Motor vehicle driver failing to yield when entering a roadway from a driveway
Motor vehicle driver failing to yield when turning left in front of a cyclist
Motor vehicle driver failing to yield at an intersection
Motor vehicle driver turning right in front of a bicyclist
Drivers must also obey any local laws that protect cyclists. If a vehicle was obstructing the pathway to the Olde Town Trail System, for instance, this could also be a violation of your rights as a bicyclist, per the Conyers Code of Ordinances Sec. 11-7-4.
We will look for evidence that the motor vehicle driver's negligence caused your accident.
Kaine Law Can Represent You After a Bicycle Accident
If you were hurt in a bicycle accident, you may be entitled to damages for medical expenses, lost wages, and pain and suffering. One of our bicycle accident lawyers serving Conyers may be able to help. We also have the best car accident lawyers, pedestrian accident lawyers, and other personal injury attorneys in Conyers.
Call Kaine Law today at (404) 214-2001 for a free case consultation.
Call or text 404-214-2001 or complete a Free Case Evaluation form