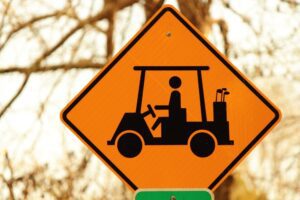 Georgia is known for having some of America's best golf courses. Sadly, some rounds of golf leave players injured after golf cart accidents. Golf carts may seem harmless, but they pose numerous potential dangers to golfers. For example, being hit by a golf cart or falling out the side of a moving cart can do real damage to the accident victim. That's when a Conyers golf cart accident injury lawyer can help.
Kaine Law is a Georgia personal injury firm that helps golf cart accident victims seek compensation for their injuries. You shouldn't be the one paying the cost for your recovery if you didn't cause your golf cart accident. Our team will fight for your right to demand compensation from the negligent party that caused your golf cart accident.
What Can a Golf Cart Accident Lawyer Do for You?
Pursuing recoverable damages after a golf cart accident is not as easy as 1-2-3. Instead, accident victims must meet a specific legal standard before they can successfully demand damages from the negligent party. Our team can gather persuasive evidence that satisfies Georgia's legal standard for negligence. So, how do we do that?
Interviewing witnesses
Requesting records (e.g., surveillance video of the accident or golf cart maintenance records)
Consulting with accident scene experts to reconstruct the circumstances that led up to the accident
While you recover from golf cart accident injuries, you may not have the time or energy to do all this work. In addition, you may lack the experience to do it effectively. A benefit of having a Conyers injury attorney from our firm is that we do the heavy lifting necessary to help you meet Georgia's negligence standard. We want you focused on your recovery while we do the legal work in the trenches.
Georgia's Legal Standard for Proving Negligence
All Georgians have what is legally known as a "duty of care" when they engage in activities like driving a golf cart. This standard means golf cart drivers must operate the cart safely and avoid behaviors that could lead to injuries. Operators who drive their golf cart while intoxicated or at unsafe speeds violate this duty of care.
However, that's only part of the standard for collecting damages. In addition to establishing that a golf cart operator violated their duty of care, accident victims must demonstrate:
Causation: You must demonstrate that the operator's failure to comply with Georgia's duty of care led to your injuries in the golf cart accident.
Damages: You must show that you have suffered damages (e.g., physical injuries, property damage, financial losses) in the golf cart accident.
We have the experience and determination necessary to help you meet this standard. Once we do, we'll have a legal rationale to demand damages from the negligent party in your case.
For a free legal consultation with a golf cart accident lawyer serving Conyers, call 404-214-2001
What Are the Recoverable Damages After a Conyers Golf Cart Accident?
You can recover any expenses related to your golf cart accident at Cherokee Run, Honey Creek, or any local course. Examples include:
The income you lose because you couldn't work because of the accident
Medical bills for treating your injuries
Physical therapy bills
Future treatment for ongoing conditions
Transportation costs for accident-related medical care (e.g., ambulance, airlift, or taxi)
Permanent loss of income or disability
However, these economic damages may not be the full extent of the losses caused by your golf cart accident. Physical injuries in negligence cases are often accompanied by noneconomic damages such as pain and suffering or mental anguish. For example, if your accident injuries led to a limb amputation or permanent disability, we will also fight to collect noneconomic damages on your behalf.
Conyers Golf Cart Accident Lawyer Near Me 404-214-2001
What Is Your Conyers Golf Cart Accident Case Worth?
Estimating the potential value of your case is not an exact science. Your injuries are specific to your case. The same thing holds for your economic and noneconomic damages. Your earning potential, medical bills, and how much pain and suffering you endure will differ from any other case.
To offer you an accurate picture of what you could recover, you could schedule a free consultation with our team. This consultation not only gives us an opportunity to get to know you as a person, but it also allows us to collect critical information regarding the extent of your injuries and any other losses you suffered in the golf cart accident.
You Have Limited Time to File Your Case
Are you considering filing an insurance claim or injury lawsuit after your golf cart accident? If so, keep a few things in mind. First, people's memories fade with time, so the earlier you can document an eyewitness' testimony, the better. Also, if there is video surveillance of your accident, the earlier we request it, the less likely the video may be lost or erased.
Finally, you also have a legal clock ticking on your damage demand known as the statute of limitations. O.C.G.A. § 9-3-33 sets a two-year deadline on personal injury cases. If you don't file a lawsuit within two years of the accident date, you could lose your right to demand compensation. However, when a Conyers golf cart accident attorney from Kaine Law is on the case, we'll make sure you don't miss the deadline.
Click to contact our Golf Cart Accidents lawyers today
A Conyers Golf Cart Accident Attorney Can Handle Your Case on Contingency
You have enough to worry about after suffering injuries in a golf cart accident without stressing over legal bills. Kaine Law wants to lower your stress level, not elevate it. So, we will take your golf cart accident case on contingency. That means you'll only get a bill for our services if we win your case. Thus, if we don't collect a settlement or win a verdict for you, you owe us nothing.
Complete a Free Case Evaluation form now
Contact Kaine Law Today About Your Golf Cart Accident
We want to make the process of seeking compensation for your golf cart accident injuries work for you. That's why when you work with our team, you don't have to worry about upfront costs. You focus on recovery. We focus on accountability for the negligent party who caused your injury.
We only need you to contact our office today to start the process. We're waiting to hear from you.
Call or text 404-214-2001 or complete a Free Case Evaluation form