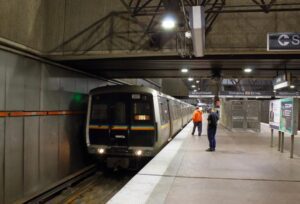 Kaine Law could help you recover compensation if you were hurt in an accident with a Metropolitan Atlanta Rapid Transit Authority (MARTA) vehicle. We are prepared to do everything necessary to guide your case to completion.
You can learn more about how we can advocate for you by calling our team today. Our Atlanta personal injury lawyers can manage your case for nothing upfront.
We Work on a Contingency-Fee Basis
After getting hit by a MARTA vehicle, you are likely dealing with a host of accident-related damages, some of which may cost thousands of dollars.
We do not want the cost of our help to be a burden to you and your loved ones. That is why we work on a contingency-fee basis. Payment for our help is "contingent" on us securing damages for you.
If we take your case but later discover that we cannot win it, you owe us nothing.
For a free legal consultation with a marta accident lawyer serving Atlanta, call 404-214-2001
You May Have a Short Time to Take Action
For most motor vehicle accident lawsuits, O.C.G.A. § 9-3-33 explains that injured people have two years to file their lawsuits. However, because MARTA is owned and operated by the government, you have less than two years to take action.
According to O.C.G.A. § 36-33-5, you have six months from the date of your accident to file a lawsuit. The city of Atlanta owns MARTA. Depending on the facts of your case, you could have a case against the city.
Our team can communicate with the city's legal counsel, identify the cause of your accident, and fight to negotiate a settlement deal that works for everyone. You can call Kaine Law today to learn more about your case's prospects.
Atlanta MARTA Accident Lawyer Near Me 404-214-2001
Types of MARTA Accidents
Whether your accident and subsequent injuries result from a bus accident, train accident, or accident from MARTA equipment, you may be able to seek compensation for your injuries. There are four common types of MARTA-related accidents:
MARTA Bus Accidents
Atlanta drivers often share the road with MARTA buses, and vehicle accidents can occur. Whether you're in the other vehicle or riding as a bus passenger, you may be injured due to the operator's negligence, inability to avoid collision, inability to control the vehicle during severe weather, or a malfunctioning bus part.
Pedestrians can also be injured in a MARTA bus accident, which often results in serious injuries or death.
MARTA Train Accidents
MARTA train accidents typically occur when a pedestrian is hit by an oncoming train. Passenger injuries can occur when the train makes an abrupt stop or experiences some malfunction.
MARTA Property Accidents
When you go to a MARTA train station, you might use the elevator or escalator to enter the terminal. When these malfunction, they can cause injuries. Also, if the floor of the station or terminal has a potential hazard, like a large crack or wet surface, pedestrians can slip and fall, especially if there isn't adequate signage.
MARTA Security Incidents
MARTA can be held liable if you're attacked and injured or if a loved one is killed in an area of MARTA property with inadequate security or lighting.
Click to contact our MARTA Accidents lawyers today
How Much Is My Atlanta MARTA Accident Case Worth?
We cannot determine how much compensation you can be awarded until we review the unique facts of your case. That's because no MARTA accident case is the same. In the past, we have secured the following verdicts from negligent parties:
$5.7 million for an accident caused by unsafe road conditions
$11 million for a car accident
$4.3 million for a drinking and driving accident
Many factors can determine how much you're able to recover from your MARTA accident, including:
Your age at the time of the accident
The type of injuries you sustained and their severity
The cause of the accident
Current and projected future medical costs
Costs associated with damaged property
An Atlanta MARTA accident lawyer with Kaine Law can calculate how much compensation you may be able to recover for your damages.
Complete a Free Case Evaluation form now
Recoverable Damages in a MARTA Accident Case
Going up against the city of Atlanta may seem intimidating. However, with Kaine Law on your side, it does not have to be.
We have experience going up against government departments and municipalities. Our team of lawyers has decades of experience when advocating for injured people.
We can help you secure:
Economic Damages
These are losses that have "price tags." Your property damage receipts, employment records, and medical bills can help us calculate these expenses.
Some economic damages in your case may include:
The cost of treatment, hospitalization, and other medical-related expenses
Future and ongoing treatments to sustain life, mobility, or pain relief
Lost wages during recovery
Loss of earning capacity due to short- or long-term disability
Property damage expenses
If you lost a loved one due to an accident with a MARTA vehicle, you may be able to recover funeral bills and medical expenses through a wrongful death claim.
Non-Economic Damages
Contrary to economic damages, non-economic damages do not come with dollar amounts. Their values are based on individual claimants' situations.
Some non-economic damages that our team can secure for you include:
Pain and suffering
Disability
Scarring
Disfigurement
Loss of consortium
In a wrongful death case, non-economic damages can include loss of consortium and loss of parental guidance.
How a MARTA Accident Lawyer Can Help You Secure Compensation
Our mission is to secure compensation for injured people. You can rest assured that we will have that same goal in mind while we advocate for your legal rights.
We will build your case by:
Gathering Evidence
When we file your claim, the insurer will ask us to prove that you were hurt and suffered financial losses. We cannot prove your case without evidence. Yet, we could collect and use the following to help you seek compensation:
Your medical history
Employment records
Pay stubs
Statements from witnesses
Statements from healthcare consultants and accident reconstruction specialists
The police report
Photo or video evidence of property damage or personal injuries sustained in the accident
We can also use traffic camera footage to learn more about how your accident happened and who can be held responsible.
Interviewing Witnesses
If you were hit by a MARTA vehicle, there might have been witnesses to the event. We can use their testimony to shed light on your case.
We could interview the following:
Passengers aboard the MARTA vehicle
Bystanders
The attending law enforcement officials
Accident reconstruction specialists
Your healthcare team
We can also use any correspondence between yourself and the insurer to corroborate any allegations that you make.
Proving Negligence
For your case to succeed, we must prove negligence. Your lawyer can do this by establishing:
Duty of care: In a MARTA accident case, the operator of the MARTA vehicle owes a duty of care to every person, bicyclist, or motorist they share the route with. Since a MARTA vehicle is considered a common carrier, these operators have an even higher standard of care to uphold, per C.G.A. § 46-9-1.
Breach of duty: The negligent action or failure to act breached that duty of care. Some forms of negligence that can cause a MARTA accident and breach of duty of care include:

Distracted driving
Speeding
Disregarding traffic laws and rules for MARTA vehicles
Driving under the influence of alcohol or drugs
Failure to execute a safe and proper turn
Negligent hiring practices
Lack of adequate training
Lack of proper maintenance or repair

Causation: Their actions or inaction directly caused your accident. For instance, a MARTA bus makes a wide turn that collides with your vehicle and causes an injury, or you're injured as a result of a malfunctioning escalator at a MARTA station.
Damages: The accident caused by the MARTA staff member's action or inaction injured you, incurring medical bills, lost wages, pain and suffering, and other damages.
We must prove, using evidence, that the other party had an obligation to keep you safe. However, because they did not do this, you were hurt and suffered financial losses.
After collecting sufficient evidence, we will negotiate a settlement with the insurer. If the insurance company refuses to pay you for your losses, we could take your case to civil court.
Most Personal Injury Claims Are Settled Before Lawsuits Are Necessary
We have no problem taking your case to court if the liable party refuses to settle your case. However, as noted earlier, you could have as little as six months to hold the city responsible.
To advance your lawsuit, Kaine Law will:
File your case within the statute of limitations
Communicate with the defendant's legal team
Call upon witnesses to testify on your behalf
Explain your options
Present the cost of your current and ongoing expenses
Advise you on what to say if you take the stand
While your case plays out in court, we will continue working with the insurance company to get a settlement. You have options with Kaine Law. Call us today to begin pursuing compensation.
Kaine Law Is Ready to Take Your Case
Pursuing compensation from the city of Atlanta does not have to be a stressful experience. Our team seeks to make it an empowering one.
Contact our office today to talk about working with a MARTA accident lawyer. Your first case review is administered at no cost to you.
Call or text 404-214-2001 or complete a Free Case Evaluation form