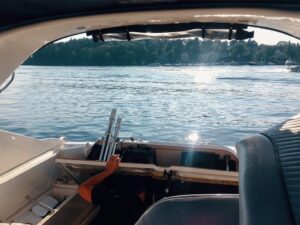 It's difficult to know what your next move is after a trip to the lake, river, or ocean goes wrong and results in a boat or watercraft accident. Although there is maritime law enforcement, they are not as plentiful as land-based emergency responders. That means there may not be a police report establishing who was at fault in your accident. However, some boating and watercraft accidents are the result of negligence and operator error.
As an accident victim, you have the right to hold the negligent party accountable for your damages. A College Park personal injury lawyer from Kaine Law can help. We are a Georgia personal injury firm that is committed to compassionate client service and the tenacious pursuit of negligent parties who hurt innocent people. Boat and watercraft accidents can be complicated, but our personal injury team has the experience to help make a strong case for you.
Proving Negligence in College Park Boating Accidents
One of the most important things a boating and watercraft accident lawyer from our firm can do for your case is demonstrate that someone else's negligence caused your accident. It's important because you can't demand damages for your accident without first establishing negligence as the cause of your injuries. Georgia's negligence standard begins with a "duty of care."
This standard requires boat and watercraft operators to always pilot their vehicles safely and conscientiously. The next step in Georgia's negligence standard is proving there was a "breach" or failure to live up to this standard by the negligent driver. Examples of this failure can include things like going too quickly, failing to look out for other boats, watercraft, or swimmers in the water, and operating watercraft while under the influence of alcohol or drugs.
The final two points of Georgia's negligence standard are causation and damages. We will help you show that the negligent driver's "breach" of their duty of care was the cause of your accident. Lastly, our team will demonstrate that you suffered damages in the accident. Examples of damages in a personal injury case include things like injuries, costs for damage repair or replacement of destroyed personal property, and non-economic damages, such as pain and suffering.
For a free legal consultation with a boating & watercraft accident lawyer serving College Park, call 404-214-2001
We Can Handle the Insurance Company
Georgia does not require boaters or owners of watercrafts to carry liability insurance. However, many marinas and boat storage facilities may require boat owners to have a liability policy as a condition of their standard lease terms. Additionally, many boat and watercraft owners take out liability policies to protect themselves in the event of an accident. If the negligent party in your case carries liability insurance, we can negotiate directly with them for you.
Insurance companies are notoriously difficult to deal with because the money they pay accident victims eats into shareholder profits. They are very adept at shaving every nickel off the value of their case, and they will try to do just that. If you're a Kaine Law client, you will have an attorney who is adept at fighting for every nickel on your behalf.
We believe our commitment to your well-being can have a positive impact on the outcome of your case. Not only are we committed to getting you what you deserve, but we also have a track record of doing it. Our lead attorney, Evan Kaine, is part of the "Multi-Million Dollar Advocates Forum", which is an exclusive group of attorneys who have verifiably won multi-million-dollar verdicts and settlements for their clients.
We Want to Help with Your Recovery
Our team of attorneys at Kaine Law is unified by a commitment to the well-being of our clients. Part of that commitment is taking care of the hardest aspects of boat or watercraft accident claims so that you can put 100% of your energy into accident recovery. We believe putting you at ease about the fact that you have an advocate who is fighting for you will allow you to focus fully on recovering from your injuries.
College Park Boating & Watercraft Accident Lawyer Near Me 404-214-2001
What Are the Damages in Boat and Watercraft Accident Cases?
The damages in personal injury cases such as boat and watercraft accidents fall into the following separate categories:
Economic damages
Non-economic damages
Examples of economic damages would include any hard costs that arise out of your accident, such as:
Medical bills
The repair cost of any damaged personal property
Replacement cost of personal property when the cost of repairing it is more than its fair market value.
Reimbursement for lost wages
Non-economic damages refer to compensation for accident-related losses that are not of a financial nature but are still very real. Examples of non-economic damages include:
Pain and suffering
Mental anguish
Lost quality of life
How Much Is Your Case Worth?
The value of your case will be the total of your economic and non-economic damages. However, no two boat or watercraft accident cases are exactly alike. Expenses such as the severity of your injuries and the cost of repairing or replacing your damaged personal property can vary widely from case to case. The same thing holds true for your non-economic damages.
It's perfectly reasonable that you would want to get an idea of how much your case is worth before deciding how to proceed after an accident. The best way to do that is to meet with one of our College Park boat and watercraft accident attorneys for a case consultation. We are available to meet at your convenience, and there is no fee or further obligation for this consultation.
Click to contact our Boating & Watercraft Accidents lawyers today
No Up-Front Fees for Our Boat Accident Lawyers
Here at Kaine Law, our first commitment is always to our clients. We know money can be tight after you've been hurt in a boat or watercraft accident. As part of our commitment to clients, we try to make it as easy as possible for them to get the legal representation they deserve. This is why we have a "no-fee guarantee". That means we'll fight your case without you paying a retainer, expenses, or any other upfront costs.
The only time you will get a bill for our services is after we win your case in court or reach a settlement agreement. Until then, you don't have to worry about our fee. If we don't win, there will be no fee for our services at all! It doesn't get much easier than zero dollars out of pocket. So call Kaine Law today, and let us fight for the compensation you deserve.
Call or text 404-214-2001 or complete a Free Case Evaluation form