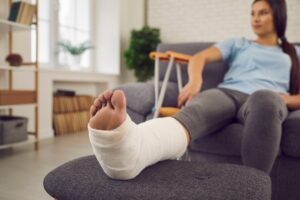 Fractures or broken bones can happen for many different reasons. However, they often stem from trauma caused by auto collisions, slip and fall injuries, accidents at work, and repetitive stress injuries. If you or a loved one was involved in an accident caused by someone else's negligence and suffered a broken bone, you may be entitled to compensation.
Broken bones and fractures can be extremely debilitating. You may require surgery and months of rehabilitation before returning to work. In the worst cases, multiple fractures can cause a permanent disability. If we find evidence supporting your claim, Kaine Law's Duluth broken bones injury lawyers provide everything you need to seek compensation from the negligent party.
How Much Compensation Can I Claim in a Broken Bones Injury Case?
As with many things legal, there is no simple or set amount of compensation you could claim. Everyone we represent faces individual challenges, and no two cases are the same. As such, compensation amounts vary for each client.
Knowing the financial extent of your injuries is vital before settlement negotiations begin. Assessing how your home and work life are affected, now and in the future, is an essential part of the legal process.
As a general guide, the financial damages you could claim include:
Lost earnings and compensation if your injuries affect your ability to work

The cost of your current and ongoing medical treatment and rehabilitation

Pain and suffering from physical pain and emotional distress caused

Diminished quality of life

Loss of amenity if your injuries are disabling

The cost of any adaptations required at home or in your vehicle to accommodate for your injuries
The cost of home care or other specialist services or equipment needed for your ongoing care

Any other financial losses related to your situation
Factors Affecting Your Compensation
Factors used to determine financial damages typically stem from the circumstances of the accident, the complexity of your injuries and treatment plan, the effect on your home and work life, and the insurance coverage available.
Our Duluth broken bones injury lawyers will help you evaluate the physical, emotional, and financial impact of your injuries to determine how much compensation you will need based on your unique situation.
For a free legal consultation with a broken bones injury lawyer serving Duluth, call 404-214-2001
We Will Help You Build and Pursue Your Gwinnett County Injury Claim
At Kaine Law, we provide all the support needed to build and pursue your injury claim by managing every aspect of your case. This way, you can concentrate on your recovery with peace of mind that your compensation claim is in good hands.
With a sole focus on personal injury law and over two decades of collective experience, we support our clients with the following services:
Investigating the cause of the accident to determine who is liable

Gathering the evidence to meet the burden of proof required to show another party's negligence caused the accident

Carefully assessing the full financial extent of your injuries, now and in the future

Negotiating for an appropriate settlement with the liable party or their insurer

Taking your case to court where necessary
You do not have to face this challenging situation alone, and you should not bear any of the costs when someone else causes your accident. Let us put our experience, knowledge, and resources to work for you today.
Duluth Broken Bones Injury Lawyer Near Me 404-214-2001
Common Causes of Broken Bones Injury Cases
Broken bones can happen in almost any type of accident. While they seem like common injuries, we know how painful they can be and the toll they can take on your physical independence and psychological well-being. Some common causes we see stem from:
Auto Accidents
Accidents caused by negligence behind the wheel commonly result in broken bones. Examples of driver negligence can include:
Driving while impaired by drugs or alcohol

Speeding or other types of reckless driving

Failure to obey traffic controls or signals

Distracted driving, for example, texting while operating a vehicle
If another road user caused the accident through negligence, we could help you hold them to account financially for their actions.
Workplace Accidents
Employers must adhere to specific rules and regulations to ensure the safety of their employees. If your accident happened at work, we can help you with your workers' compensation claim or injury lawsuit if a third party (such as a contractor or parts manufacturer) caused the accident.
Slip and Fall Injuries
If the accident happened in a public place and was caused negligently, you could recover compensation under premises liability law. Property owners must keep their premises safe for visitors. If they do not uphold this legal obligation and an accident occurs, they may be financially liable for any injuries.
Whatever the cause of the accident, if someone else's negligence was the cause, you could pursue compensation. If the specific accident is not listed, do not be put off – we can still help.
Click to contact our Broken Bones Injury lawyers today
How Long Do I Have to File a Broken Bones Injury Case in Duluth?
In Georgia, injured parties generally have two years to file a lawsuit per O.C.G.A § 9-3-33. While certain exceptions may apply, we would always urge you to file within this timeframe to avoid risking your right to compensation.
Complete a Free Case Evaluation form now
Can I Make a No-Win, No-Fee Claim for a Broken Bones Injury?
Our no-fee guarantee means we never ask our clients to pay any upfront costs. Instead, we use our resources to build and pursue your case initially and only recover our fees if we secure your compensation.
Connect with Our Duluth Broken Bone Accident Attorneys
When someone else causes you harm, the Duluth broken bones injury lawyers at Kaine Law want to help you make things right. Our reputation for hard work and going the extra mile for our clients means we have recovered millions of dollars in settlements and verdicts. We are here to help you, too.
If you or a loved one suffered a broken bone in an accident caused by another's negligence, contact us for a free consultation and learn more about your legal options.
Call or text 404-214-2001 or complete a Free Case Evaluation form