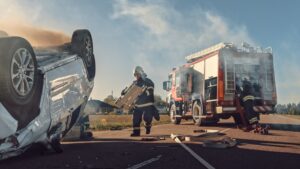 If someone else caused your loved one's catastrophic injuries, your family has rights. You can get justice and compensation by pursuing an insurance claim or lawsuit. Our team can help. At Kaine Law, a Duluth catastrophic injury lawyer can gather evidence, build a case, and handle your claim.
If you or a loved one suffered severe, lasting injuries in Gwinnett County, you can learn more about your rights and options for free today. During a consultation, we will discuss how our Duluth personal injury lawyer uses experience, knowledge, and aggressive actions to recover money for you and your family.
Kaine Law Represents Families in Duluth Catastrophic Injury Cases
When Attorney Evan L. Kaine and our team represents individuals and families after a catastrophic injury, we fight for justice. The way we get justice for our clients in these cases is to recover compensation for their expenses, losses, and future costs. We have decades of experience securing payouts for clients hurt in personal injury accidents.
We review cases for free. We will assess and explain your legal options based on the circumstances of what happened and state laws. We will discuss the strategies we used to pursue compensation—and win—in similar cases.
We also work based on contingency fees. We never ask our clients for money up front. Instead, we fight for victims and their families with our firm's resources. Our no-fee guarantee means you do not pay any attorney's fees unless we get a settlement or court award for you. We receive a portion of the payout we recover in your case.
For a free legal consultation with a catastrophic injury lawyer serving Duluth, call 404-214-2001
Our Lawyers Build Strong Cases for Clients With Catastrophic Injuries
When someone suffers catastrophic injuries, it often occurs because of someone else's negligence. When one person acts carelessly or recklessly, it can cause significant harm to others. This happens in car crashes, boating accidents, premise liability incidents, and other personal injury accidents.
Our lawyers understand how to determine whose negligence caused these injuries and hold them liable. We do not believe the victims' families should have to pay for their care and treatment. Instead, those responsible for causing it should. Often, the at-fault party has insurance to cover these costs. For example:
Auto liability coverage pays for car accident claims

Homeowner's insurance pays for dog bite claims

Corporate liability coverage pays for falls in a store or restaurant
We gather evidence to show negligence and liability, documenting that the at-fault party caused the incident and injuries. We use this evidence as support when we demand compensation for our clients. This usually leads to negotiations with the insurer and often an appropriate payout based on your expenses and losses.
Duluth Catastrophic Injury Lawyer Near Me 404-214-2001
Damages in Catastrophic Injury Cases in Duluth
When a catastrophic injury occurs in Duluth, treatment and stabilization are the top priorities. Victims often go directly to Northside Hospital Gwinnett, a Level II trauma center. Some injuries require an air medevac to Grady Memorial in Atlanta or another Level I trauma center. This is common with serious burns, for example. Catastrophic injuries include:
Traumatic brain injuries (TBIs)

Spinal cord injuries

Traumatic amputations

Severe burns, scarring, and disfigurement

Other life-altering injuries
The costs of stabilizing, treating, rehabilitating, and living with catastrophic injuries add up quickly and often continue for years. Many catastrophic injuries are life-long and life-altering. When we pursue compensation for our clients, we identify the family's related expenses and losses and estimate their future care costs with help from experts. The recoverable damages in these cases could include:
Ambulance or medevac transportation from the accident scene

Medical treatment, including hospitalization, treatment, and follow-up care

Rehabilitation and therapy

Necessary ongoing care

Future medical expenses

Loss of income

Reduced earning capacity due to lasting injuries

Property damages, if applicable

Miscellaneous related expenses

Pain and suffering

Other intangible losses

Wrongful death damages if the victim passes away
Click to contact our Catastrophic Injury lawyers today
Our Attorney Manages Duluth Catastrophic Injury Cases
At Kaine Law, our attorneys handle all aspects of Duluth personal injury cases. We build robust support for insurance claims and work to negotiate a fair and just settlement. When this is impossible, we do not settle for less than our clients need to cover their expenses and get the necessary care. Under O.C.G.A. § 33-6-34, victims have a right to get an appropriate payout.
If we need to sue on behalf of our client, we will not hesitate to do so. This does not mean the case will go to trial. Instead, it often prompts the insurance company to increase its offer, and we can settle for our client outside of court. Alternatively, we could take the case to trial and present a solid argument to the judge and jury to show:
Whose negligence caused the accident

How they caused the injuries

The severity of the injuries

The client's damages
We will present a strong argument for our client that shows they deserve a fair and just payout. This could prompt the jury to issue a favorable verdict and order a monetary award in our client's favor.
Georgia has a two-year deadline for filing personal injury lawsuits under O.C.G.A § 9-3-33. This applies in most cases, although there are exceptions. Missing this deadline could mean you cannot pursue compensation in the case through the court system. This could greatly affect your ability to get a fair payout, so meeting this deadline is essential. As long as we know about your case in time, we ensure you meet all deadlines.
Complete a Free Case Evaluation form now
Talk to Our Duluth Catastrophic Injuries Legal Team Today for Free
Kaine Law provides free consultations for victims of catastrophic injuries and their families. We understand how important it is for your family to recover compensation to help ensure the best treatment and care. We will review your legal options with you and answer your questions.
Contact us today to learn more about these cases and how our team can help. We have someone available to speak to you now.
Call or text 404-214-2001 or complete a Free Case Evaluation form