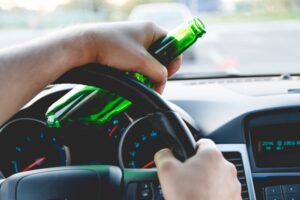 Car accidents happen for a variety of reasons, but when alcohol is involved, another party's negligence can be particularly devastating. According to O.C.G.A. 40-6-391 (2010), motorists who have a blood alcohol concentration of 0.08 or higher are in violation of this law and cause great harm to others near or on the road.
If you or a loved one suffered injuries due to a drunk driver, our Savannah drunk driving accident lawyers can help you. A Savannah personal injury lawyer with Kaine Law is ready to take on your case while you rest and recover. We can investigate your accident and work to hold a negligent drunk driver responsible for your losses.
Potential Compensation for a Savannah Drunk Driving Accident
Since drunk driving accidents can be severe, the injuries victims face can be costly. On top of emergency medical services, you may require long-term medical care, such as rehabilitative therapy.
You shouldn't have to foot the bill for someone else's bad choices. Our Savannah drunk driving accident attorneys can seek fair compensation from a liable party. Whether through an insurance claim or a personal injury lawsuit, our legal team can help you pursue justice.
Economic Damages
We can seek compensation for both your current and future accident-related medical bills, along with other economic losses. If you had to miss work in order to heal from your injuries, we can seek compensation for your wages, benefits, and paid time off.
Our Savannah car accident lawyer can gather your medical records and wage statements to support your case. If you suffered injuries that led to permanent impairment, we can also seek awards for reduced earning capacity.
We can tell you more about the compensation you can seek when we begin your case.
Non-Economic Damages
We can also seek awards for your pain and suffering, as well as reduced quality of life if you suffered permanent impairment.
Wrongful Death Compensation
Drunk driving accidents can be particularly violent. According to the National Highway Traffic Safety Administration (NHTSA), over 11,000 victims died in 2020 due to these types of crashes.
If you lost a loved one, a Savannah wrongful death lawyer can help you file a lawsuit. Typically, a representative of the deceased's estate files a wrongful death lawsuit, and the beneficiaries benefit from the potential compensation. We can seek the following damages:
Loss of inheritance for the income your family member provided
Loss of consortium for their companionship
Lost wages if you missed work to tend to them before their passing
Funeral expenses
Burial and cremation expenses
Your family member's accident-related medical bills
Their pain and suffering
We understand that no settlement or verdict can bring back your family member, but it can help you cope in their absence. Our legal team can help you honor the memory of your loved one and seek justice.
For a free legal consultation with a drunk driving accident lawyer serving Savannah, call 404-214-2001
How a Savannah Drunk Driving Accident Team Can Help
Aside from filing your insurance claim or lawsuit, our legal team can handle all the fine details of your case. We provide client-focused legal care and tailor our strategy to meet each client's situation.
When we take on your case, we can help:
Investigate the drunk driving accident
Gather evidence of another party's negligence
Document your losses
Consult experts who can provide testimonies to support your case
Handle all the paperwork associated with your case
Negotiate with an insurer for fair compensation
Represent you in a trial
We will also keep you updated on any progress in your case and work to make the legal process as smooth and timely as possible.
Savannah Drunk Driving Accident Lawyer Near Me 404-214-2001
Make Sure You Start Your Savannah Drunk Driving Accident Soon
Another way we can help is by filing your personal injury case on time. According to O.C.G.A. § 9-3-33, you generally have two years to file your lawsuit. If you miss this deadline, the court could dismiss your case, and you could lose your last chance to seek compensation from a responsible party.
Keep in mind that it also takes time to investigate a case and negotiate with insurers. These processes do not stall the statute of limitations, though. The sooner you call, the sooner we can begin working on your case.
Click to contact our Drunk Driving Accidents lawyers today
Our Savannah Drunk Driving Accident Lawyers Handle Cases on Contingency
You shouldn't have to let a sudden financial strain stand in the way of seeking justice. We understand that you are already overwhelmed with medical bills and other accident-related expenses. We don't want to add to this strain. Instead, we take personal injury cases on a contingency fee basis.
We can start your case with no out-of-pocket fees, and we only collect our payment from the potential compensation we win for you. You have nothing to lose by accessing a free consultation to discuss your case.
Complete a Free Case Evaluation form now
Seek Medical Attention After a Drunk Driving Accident
It doesn't matter how seemingly minor your injuries are; you should see a doctor. Your health comes first, and your medical records can help us connect your accident to another party's negligence. They can also give us an idea of how much to seek in compensation, especially when it comes to future medical expenses.
Make the right call after a drunk driving accident in Savannah. See a doctor and follow through with your prescribed treatment plan.
Our Savannah Drunk Driving Accident Attorneys Are Standing By
You deserve to rest and recuperate after your accident. You can let our Savannah drunk driving accident lawyers handle the legal legwork. Call Kaine Law for a free consultation today. We can discuss your accident and explain more about how our legal team can help.
Remember to call as soon as possible to secure your right to seek compensation through legal action.
Call or text 404-214-2001 or complete a Free Case Evaluation form