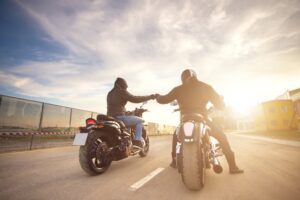 The difference in size between motorcycles and cars often causes accident victims to suffer severe injuries. At Kaine Law, our personal injury attorney in Lilburn can investigate your accident and prove the negligence that led to it. We can also work with the insurance provider and adjuster to resolve your case with a settlement.
Leave the hard work and details of preparing your case to us so you can concentrate on getting better. Our client-focused team brings multiple decades of collective experience in personal injury law to your case. We are committed to listening patiently to your version of events so our Lilburn personal injury lawyer can provide you with personalized legal service.
Compensation for Lilburn Motorcycle Accident Victims
After a motorcycle accident, it can be hard to understand the varying types of damages you are entitled to recover. Our familiarity with personal injury law means we understand which expenses and losses are recoverable and request compensation for:
Medical bills, including the costs of rehab and therapy

Required medication and assistive medical devices

Current and future lost income and loss of future earning capacity

Motorcycle damage, destruction, or diminished value

Ongoing physical and emotional pain and suffering

Lasting physical disabilities and disfiguring injuries
We will collect the bills and other documents that prove the value of your recoverable damages. We curate your list of damages carefully to avoid having recoverable damages overlooked and protect you from accepting a lowball settlement offer from the insurance company. 
Recovering Damages in a Motorcycle Accident Wrongful Death Case
If your family lost a loved one in a motorcycle accident, our attorneys can pursue wrongful death damages on your behalf. The at-fault party can be compelled to provide financial compensation to your family for the following:
Funeral, burial, or cremation costs

Loss of the income the decedent would have earned if they lived

Loss of care, companionship, and counsel
While nothing can make up for your family's loss, its suddenness can cause financial hardship. Our law firm will help you pursue damages and give your case the attention to detail it needs and deserves.
For a free legal consultation with a motorcycle accident lawyer serving Lilburn, call 404-214-2001
Our Attorneys Are Passionate About Supporting Lilburn Motorcycle Accident Victims
Every client we represent is a priority for our team. We are committed to our clients and their overall recovery, so we:
Fight for injury victims and their families

Provide easy-to-understand legal guidance

File your insurance claim or lawsuit for you
No two motorcycle accident cases are identical, so we do not offer cookie-cutter legal services. We provide tailor-made, responsive, and communicative legal support that you can depend on when you need it most.
See Why Our Previous Clients Recommend Our Personal Injury Attorneys at Kaine Law
When clients recommend for our law firm, they leave online reviews and recommendations like the following:
"Evan Kaine is a great attorney who kept me informed on all activity regarding my case…Very knowledgeable and thorough, always examining my case from every angle. I have recommended him to several friends and will continue to do so. Overall great legal service." – B.S.
"…After being hit by a wrong-way driver, I hired Evan to represent me in a lawsuit. Evan is brutally honest…at the end of the day, he set realistic expectations and got me a great settlement. Evan is the bulldog you don't see coming." – D.G.
Browse our testimonials page to hear from additional clients and see what it means to work with a law firm that cares about every aspect of your recovery.
Lilburn Motorcycle Accident Lawyer Near Me 404-214-2001
Filing Deadlines Are a Critical Part of Your Motorcycle Accident Lawsuit in Lilburn
All civil lawsuits have a filing deadline in Lilburn, meaning you have a limited amount of time to file your lawsuit before you are prohibited from doing so. In general, O.C.G.A § 9-3-33 gives you up to two years to meet the personal injury or wrongful death statute of limitations.
Our law firm will explain any circumstances of your accident that could change the applicable statute of limitations. We will also accurately interpret the filing deadline to help you avoid the costly consequences of filing your lawsuit too late.
Click to contact our Motorcycle Accidents lawyers today
Our Investigation Could Prove the Negligent Party Owes You Compensation for Your Motorcycle Crash
You could recover damages when our motorcycle accident lawyer proves the cause of your Lilburn motorcycle crash. Potential causes of accidents include manufacturing flaws, defects on your bike or the car, and negligence on the part of the vehicle driver. We can prove the elements of negligence that allow you to recover damages. They include:
Duty of care: The liable party had a responsibility to keep you safe.
Breach of duty: They did not maintain their duty of care.
Causation: Their action or inaction led to your accident.
Damages: You suffered emotional, physical, and financial losses because of the motorcycle wreck.
At Kaine Law, we know how hard it can be to build a personal injury case and prove the at-fault driver's negligence. Our investigation can also protect you from having any portion of fault assigned to you, which could substantially decrease your compensation.
Evidence Our Motorcycle Accident Attorney Collects to Build Your Case File
Our legal team and the at-fault driver's representatives rely on evidence to tell us what happened. To understand the cause of your accident, we collect:
The police report. It will describe the accident's causes, contributing, factors, and aftermath.

Your medical records and bills. They describe your motorcycle accident injuries, their cause, and their costs.

Your employment records. They describe the income you lost due to your injuries and your recovery.

Photos and video footage. They will capture details of the accident and points of impact.

Witness statements. They can include accident witnesses, accident reconstruction experts, medical experts, and financial experts.
Collecting evidence is a time-consuming project. Our personal injury lawyers do more than simply compile it—we present it to the at-fault party on your behalf along with a request for compensation.
Complete a Free Case Evaluation form now
Get a Free Evaluation of Your Lilburn Motorcycle Accident Case
If you or a loved one was injured in a motorcycle crash, our Lilburn motorcycle accident lawyer can build a case for you and request appropriate compensation. You can leave your personal injury claim to us while you focus on your recovery. 
We will guide you in your pursuit of compensation right from the start. When you are ready to explore your financial recovery options, contact our case review team Kaine Law today. We offer free initial consultations. 
Call or text 404-214-2001 or complete a Free Case Evaluation form