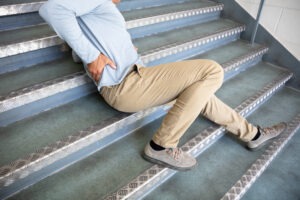 When an employee in Georgia suffers a workplace injury or illness connected to their job, they can pursue medical and wage benefits through workers' compensation.
If you were hurt in a work accident, Kaine Law will stand up for you. Our Stockbridge workers' compensation lawyers can help you file your workers' compensation claim or appeal denied benefits. Our attorneys can also review your case and determine if you are eligible for additional compensation via a third-party personal injury claim.
Workers' Compensation Covers Your Medical Treatment
You can seek workers' compensation for medical expenses related to your work injury, which may include:
Doctor fees

Hospital bills

Physical therapy

Prescription medications

Medical devices

Medical and vocational rehabilitation

Medical travel costs
You can receive medical benefits for a maximum of 400 weeks. However, if you sustained a catastrophic injury, you could qualify for medical coverage for life. 
For a free legal consultation with a workers' compensation lawyer serving Stockbridge, call 404-214-2001
Workers' Compensation Pays a Portion of Your Wages
You can collect wage replacement benefits amounting to up to two-thirds of your average weekly wages. Your specific payments depend on the severity of your injury, whether you can work in any capacity, and your pre-injury wages:
Temporary Partial Disability (TPD)

is for workers with an injury that is "partial in character but temporary in quality." According to

O.C.G.A. § 34-9-262

, TDP pays two-thirds of the gap between an employee's weekly pre-injury and post-injury wage. TDP payments can last a maximum of 350 weeks. 

Permanent partial disability (PPD)

is for injuries "partial in character but permanent in quality" resulting from the loss of a limb, body part, or bodily function. PPD pays two-thirds of your average weekly wage. How long payments last depend on the injury schedule listed in

O.C.G.A. § 34-9-263

.

Total disability

payments provide benefits for up to 400 weeks for temporary total disabilities (TTD). Compensation is two-thirds of your average weekly wage. However, according to

O.C.G.A. § 34-9-261

, you may qualify for benefits beyond 400 weeks if your workplace accident resulted in

catastrophic injury

or a total, permanent disability. 
Our Stockbridge workers' compensation lawyers can assist you with filing your claim and providing medical proof of your disability. We want to ensure you receive adequate awards so your time off work does not jeopardize your financial future. 
Benefits for Dependent Family Members
Workers' compensation pays wage replacement benefits to family members of workers who pass away because of a workplace injury. Only the loved one's surviving spouse, dependent children, or stepchildren can receive payments. 
Compensation amounts to two-thirds of the loved one's average weekly wage. Payments last for up to 400 weeks or until dependency ends. Per O.C.G.A. §  34-9-265, families may also be entitled to compensation for funeral and burial costs.
Stockbridge Workers' Compensation Lawyer Near Me 404-214-2001
Who Qualifies for Workers' Compensation?
Under Georgia law, any employer with three or more employees must carry workers' compensation insurance. Employers include businesses in the private sector and government entities, such as municipal corporations and school districts. 
Employees receive coverage on day one of employment. Additionally, workers' compensation pays benefits to dependent family members of workers who suffer a fatal occupational injury. 
To qualify for medical and wage benefits, you must:
Have sustained your injury during the course and scope of your employment

Report your injury to your employer within 30 days of the occurrence

File your workers' compensation claim with the SBWC within one year

Receive medical treatment from an approved provider listed in the

SBWC physician database
Click to contact our Workers' Compensation lawyers today
Our Attorneys Can Seek Awards Not Provided by Workers' Compensation
If a negligent party who is not your employer (such as an equipment manufacturer or subcontractor) caused your workplace injury, we may be able to help you recover additional damages with a personal injury or wrongful death case. Legal action against a third party lets you seek awards not available under workers' compensation, including awards for pain and suffering. 
Our Stockbridge injury attorneys can help you with a liability insurance claim or lawsuit to recover:
Current and future medical treatment

not covered under workers' compensation

Complete and uncapped wages

, earnings, and benefits, including bonuses, tips, vacation pay, and retirement contributions 

Compensation for personal losses

, including physical pain, mental anguish, emotional suffering, scarring, disfigurement, loss of a limb or body part, and quality of life reductions

Lost earning capacity
Property damages

, including the cost of fixing or replacing personal vehicles, electronics, or equipment damaged during your work accident

The full value of a deceased

loved one's lost wages

(including lost future earnings)

Compensation for the

loss of the loved one's care

, companionship, and guidance

The value of your loved one's

lost services and support
Under O.C.G.A § 9-3-33, you have two years to file a lawsuit for wrongful death or personal injury. Failing to meet this deadline can result in a dismissed case or denied insurance claim. 
Complete a Free Case Evaluation form now
Thousands of Employees Suffer Workplace Injuries Every Year in Georgia
According to the U.S. Bureau of Labor Statistics, employers reported more than 78,000 nonfatal work injuries and illnesses in Georgia in one year. Of these injuries and illnesses, 41,000 were severe and resulted in time off work, a job transfer, or work restriction. 
The National Safety Council (NSC) states that leading work-related injury causes include:
Exposure to harmful environments and materials, including loud noises, radiation, electricity, and dangerous chemicals and substances

Falls, including

slip and falls

and falls from heights

Repetitive stress injuries and injuries caused by overexertion

Exposure to contagions and infectious diseases

Vehicle and transportation accidents

Getting caught, crushed, or struck by objects, equipment, or materials
Our legal team can help you get the monetary compensation you need to pay for medical treatment and provide for your family while you heal from your injury. We will fight to secure your workers' compensation benefits and fair financial recovery from other liable parties. 
Let Kaine Law Help With Your Workers' Compensation Claims
Seeking benefits can be complicated, and you have enough on your plate dealing with your injury. Let our Stockbridge workers' compensation lawyers handle your claim or fight back against denied benefits. We can help you file an initial application, navigate the appeal process, or take legal action to pursue additional financial recovery. 
Additionally, we can represent you without adding to your current financial hardships. Our-no fee guarantee means you pay nothing until we win your case. Contact us today for a free consultation.
Call or text 404-214-2001 or complete a Free Case Evaluation form